Our History & Activities
JIDS began meeting regularly at around the time of Barack Obama's first inauguration.  Back then, we were meeting virtually every month.  More recently, we have gathered roughly seven times per year.  We engage in interfaith dialogues focusing on a previously announced topic.  The topics involve theology, war and peace, history, ritual or culture – in short, they span a wide range.  On some occasions, we have turned over the microphones to teenagers and/or young adults and let them serve as our rabbis and imams.  On other occasions, our panels consist primarily of local clergy.  Typically, though, our presentations are given by lay adults with particular expertise and passion in the subject matter.
While JIDS is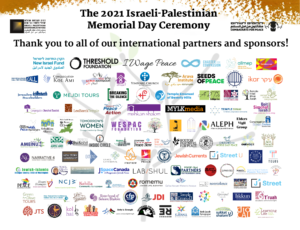 primarily a dialogue society, we have also engaged in a number of social action events over the years.  We have been essential in bringing together Washington D.C. area imams, rabbis and leadership colleagues on an annual basis since 2014. We have sponsored films with important social-action import.  We are a cosponsor of the annual joint Israeli-Palestinian Memorial Day Ceremony as we deeply know that the only way to find peace is to recognize the humanity of all. JIDS members have come together to work at a local soup kitchen, a homeless shelter and a food bank.  We have provided assistance to an inner-city home that required a new paint job.  On multiple occasions, we have gathered local youth to clean up a public park.
In 2017, JIDS was honored to receive the Rabbi Richard Sternberger Social Justice Award from Temple Rodef Shalom, one of Virginia's largest synagogues.  In that year, we also incorporated as a non-profit, 501(c)(3) organization.
We at JIDS are proudest of the fact that we have formed a true community.  The members of JIDS provide a safe space where people can speak their minds.  We have matured together as a group of friends, even though we represent a wide range of ideas on matters of faith and of politics.  Though the e-mails announcing our events go out to over 1000 people, we are blessed with a core group of devoted supporters who ensure that JIDS sessions always have an intimate, informal and welcoming feel.
So how did all this come to be?
First, the group was started by laypeople, not professional clergy.  Because of the fact that our programs are typically lay led, we have been able to speak from the heart without fear of losing jobs or congregants if our statements come across as less than diplomatic.  As indicated above, however, we have been fortunate to have considerable participation and support from local clergy who appreciate our efforts in bringing together the Family of Abraham, as well members of other faiths.  Indeed, we are always clear to point out that our community is composed of Jews, Muslims AND Allies, and is welcoming to all who enter with love.
Second, we were started by people with shared passions.  Especially in a society where so many people have given up on the Holy Name, it was critical JIDS was formed by folks who adore that Name.  Our founders felt that we had a common beloved who was under siege, and that brought us together.  But we also have a number of members who are atheists, and they too are treated with complete respect, because the one thing more important to our founders than honoring the Name is embracing others with civility and warmth.
Third, our founders were sufficiently mainstream within their faiths that nobody has questioned whether our group authentically represents Jews and Muslims.  Yet JIDS also prides itself on being ideologically diverse, and regardless of whether the topic involves politics, theology or some other controversial area, the JIDS community is likely to reflect multiple points of view on the topic.
Fourth, we keep it real … and challenging!  We didn't want to turn our encounters into kumbaya-singing sessions.  Nor did we want to be the kind of interfaith group that speaks at a level worthy of children. We aim for intelligent high-level dialogue at all times.  And we don't whitewash differences between our communities – we embrace those differences.
JIDS has now become a fixture in the Washington, D.C. interfaith movement, one that is respected within and outside the Jewish and Muslim communities.  Through working in other organizations, such as those devoted to Middle East Peace, JIDS members have brought word of what we do to a variety of faith communities, and this is how we have acquired members who are neither Jewish nor Muslim but who are supportive of the efforts to bring these two peoples together as cousins, not as enemies.
Whether we are engaging in social action or dialogue events, if you come to our meetings, you'll soon realize that we don't expose our community to lengthy talks.  Rather, we set aside most of our sessions to letting the community members talk.  In a city that is perhaps known for lengthy speeches by "experts," JIDS is forever cognizant of the fact that we are truly a dialogue society, not a speaker's bureau.  That's why at our meetings, we don't ask audience members simply to submit questions to the speakers; we encourage everyone in attendance to speak their minds.